Updates | 04.03.17
3.29: power plays; "fixing" fake news; hidden graves
---
updates and ideas from the D&S community and beyond
How is information controlled, manipulated, and transformed?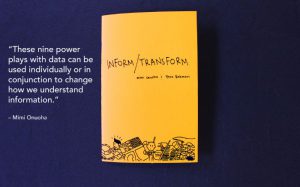 Learn more about Inform/Transform by Mimi Onuoha and Zara Rahman
Around the Institute
JOBS: Calling all planners and strategists:
Last call to apply to two dynamic roles at Data & Society: Communications Manager (Deadline: Friday!) and Research Project Lead: Media Manipulation (apply by: April 3).
Google and Facebook Can't Just Make Fake News Disappear
"The design imperative that we need to prioritize is clear: Develop social, technical, economic, and political structures that allow people to understand, appreciate, and bridge different viewpoints." —danah boyd
Handcuffing Cities to Help Telecom Giants
"In other words, if a city wants to set up a fair and competitive system that favors competitors, citizens, and long-range goals instead of the interests of a single big company—well, that would be illegal. This nationwide effort is aimed at, effectively, privatizing public rights of way." —Susan Crawford
Around the Around
The House just voted to wipe away the FCC's landmark Internet privacy protections
"As a result, Tuesday's vote may release Internet providers from the FCC's privacy regulation, but the FTC would also be unable to enforce its own guidelines on the industry without new authority from Congress." —Brian Fung
Facial recognition database used by FBI is out of control, House committee hears
"Inaccurate matching disproportionately affects people of color, according to studies. Not only are algorithms less accurate at identifying black faces, but African Americans are disproportionately subjected to police facial recognition." —Olivia Solon
Modeling the location of hidden graves in Mexico
The Human Rights Data Analysis Group (HRDAG) publishes its model on finding hidden mass graves, known as fosas clandestinas.