NOTE: Applications close at midnight EST on Friday, December 1. 
New applicants should apply to the second workshop on Wednesday, January 10.
Waitlisted December workshop applicants may opt to stay on the waitlist, OR have their application considered for the next workshop by emailing communications at datasociety dot net.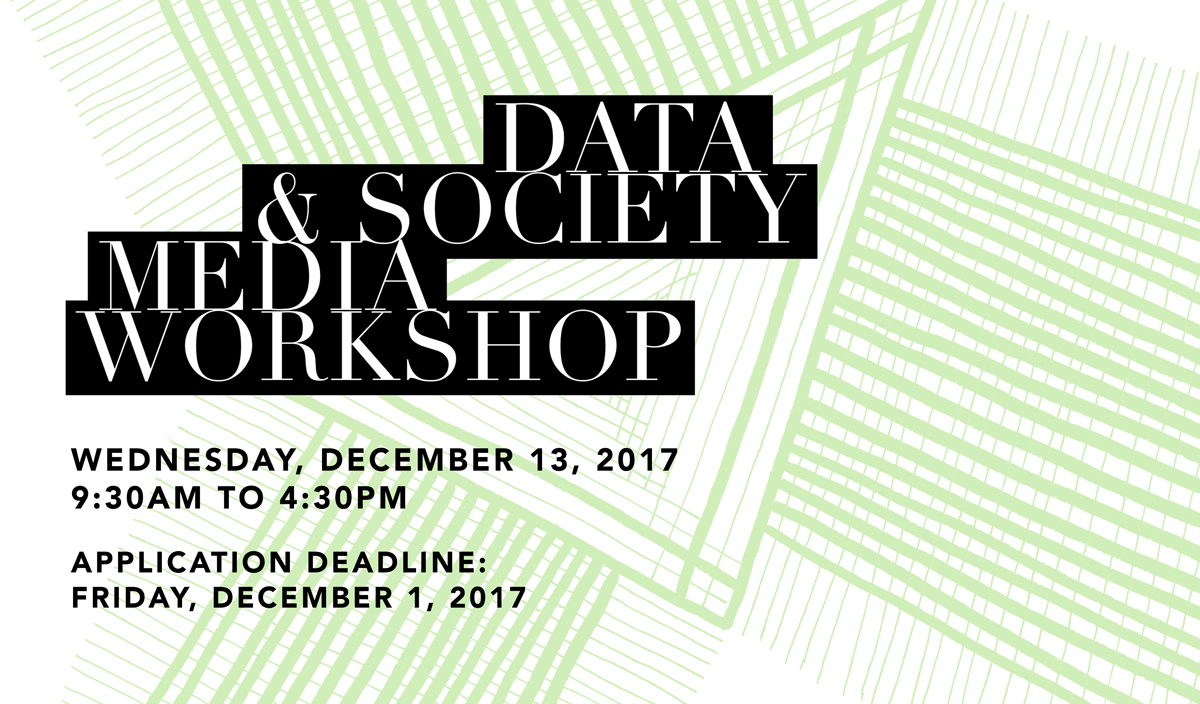 This immersive one-day, closed-door workshop directly engages journalists and media makers with Data & Society expert researchers.
---
Wednesday, December 13, 2017, 9:30am to 4:30pm
Application Deadline:
Friday, December 1, 2017
Who Should Apply:
Journalists and media makers who cover the intersections of society, technology, and culture.*
Cost:
FREE.
Data & Society is able to offer this resource free of charge thanks to the generous support of the John S. and James L. Knight Foundation.

---
Workshop Format:
Brisk and vivid presentations by Data & Society experts showcase our latest evidence-based research for journalists and media makers who cover the intersections of society, technology, and culture. Closed-door discussions explore how to navigate public "hype cycles" of fear and hope around automated and data-centric technologies, including topics such as:
AI / intelligence and autonomy
Trolling and "meme genealogy"
News platforms, algorithmic manipulation, and disinformation
Bias and equity in data collection (medicine; criminal justice)
Futurist narratives in film and art
The program begins at 9:30am and closes at 4:30pm. Coffee, breakfast, and lunch are included, with frequent program breaks to enable calls and newsroom check-ins. The day closes with a lively food and drink reception with Data & Society (plus a special guest host, soon to be announced!).
Workshop Location:
Data & Society is located in Flatiron/Chelsea district of New York City in walking distance from the C/E, 1, 4/6, and F/M trains. Limited travel stipends are available (see below).
Workshop Goals and Details:
This diverse overview will give journalists and media makers the latest evidence-based research on the social and cultural effects of automated and data-centric technologies. This workshop is the first in a series of Data & Society events aimed at strengthening a network of media practitioners who are driving the public discussion around emerging technologies.
Select session titles include Gaming the Algorithm, Data as a Gift, and When Humans Attack. The program is intended as a one-day tour of the most complex hot topics on the horizon for mid-career to senior media professionals covering this field. The final program will be shared on Monday, November 27.
How to Apply:
Spots are limited and the process is competitive. Please apply ASAP. Applications close on Friday, December 1.
Apply by filling out this form. We will respond with acceptances and waitlist notifications by Monday, December 4. If you have any questions, please email communications at datasociety dot net. We especially welcome applications from press professionals who identify as members of underrepresented groups.
Note: A similar workshop in January 2018 will be announced shortly. Applicants on the waitlist for the December 13 workshop will be considered for this opportunity.
*While we appreciate interest from scholars of media, this workshop is intended primarily for practicing media professionals such as editors, correspondents, reporters, news division staff members, podcasters, and filmmakers.
Travel:
Select travel stipends are available on a first-come needs basis to technology journalists residing outside of the New York City area, and for those with local transport accessibility needs. Please include such requests in your application form.
image:cc Daniel Friedman