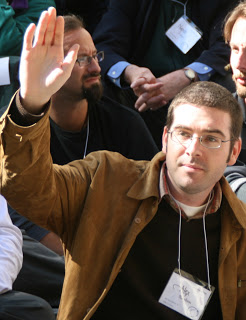 Data & Society is delighted to announce Alexander Macgillivray as the newest member of our Board of Directors.
Macgillivray was United States Deputy Chief Technology Officer for the last two-plus years of the Obama Administration. He was Twitter's General Counsel; and head of Corporate Development, Public Policy, Communications; and Trust & Safety. Before that, he was Deputy General Counsel at Google and created the Product Counsel team.
Macgillivray previously served as a board member for the Campaign for the Female Education (CAMFED) USA. He was additionally an early Berkman Klein Center collaborator, was certified as a First Grade Teacher in the State of New Jersey, and was an undergraduate student of Reasoning & Decision Making. His interests include law, policy, government, decision making, the Internet, algorithms, social justice, access to information, and "the intersection of all of those." These days he is "coding, writing, and doing short-burst projects with organizations thinking about what they should be doing next."
"I'm really excited to join Data & Society because it is thoughtfully applying evidence to resolve the most important policy debates," says Macgillivray.
"Alexander's expertise will be instrumental in supporting the growth and development of Data & Society's research initiatives and projects," says Janet Haven, Executive Director. "We are thrilled to welcome him to our dynamic Board of Directors."
Macgillivray joins as Data & Society bids a warm and grateful farewell to long-serving board member John Palfrey, who rotates off the Board this month.
Media contact:
Sam Hinds Garcia
Director of Communications, Data & Society
[email protected] | +1-646-603-3547
[Photo credit: Doc Searls, CC BY-SA]