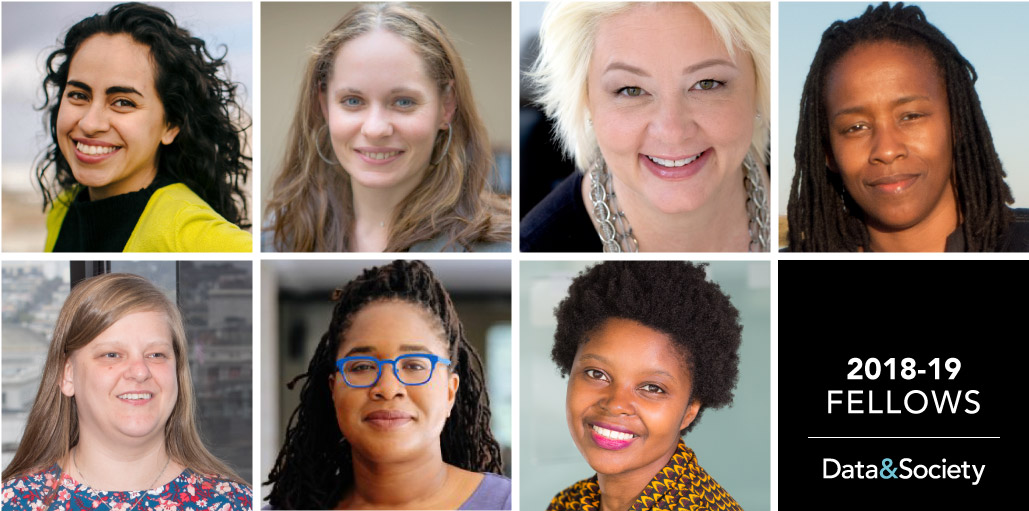 Data & Society is delighted to announce its fifth class of fellows. We will welcome the new group to our Manhattan offices in September 2018.
The group's dynamic range of experience and expertise spans art, accessibility advocacy, education, law, labor, race and digital media, police accountability, and more. Fellows will pursue individual projects, support one another's explorations, contribute to core research projects, elaborate on the work of our first four classes, and share fresh insights from their work with our staff and the public.
Hosting a variety of practitioners and academics–data scientists and engineers, lawyers and librarians, ethnographers and creators, historians and activists–our Fellowship Program supports Data & Society's crucial ongoing field-building work at the intersection of data-centric technology and society.
Veronica Avila is a labor rights organizer and researcher. She is currently the Strategic Research Associate with the Restaurant Opportunities Centers United (ROC), a restaurant workers' center committed to improving wages and working conditions for the nation's restaurant workforce. Prior to her work in research she was a labor rights organizer, organizing with several service worker unions and the Chicago chapter of ROC. Veronica holds an MSc in Inequalities and Social Science from the London School of Economics. Twitter.
Cynthia Conti-Cook is a staff attorney at the New York City's Legal Aid Society Special Litigation Unit, where she oversees the Cop Accountability Project and Database; leads impact litigation and law reform projects on issues involving policing, data collection, risk assessment instruments–and the criminal justice system generally; and supports staff in the trial offices on their cases. She has presented as a panelist and trainer at many national, state, and city venues on topics of police misconduct, technology in the criminal justice system, and risk assessment instruments. Twitter.
Jessie Daniels, PhD is Professor at Hunter College (Sociology) and at The Graduate Center, CUNY (Africana Studies, Critical Social Psychology, and Sociology). She earned her PhD from University of Texas-Austin and held a Charles Phelps Taft post-doctoral fellowship at University of Cincinnati. Her main area of interest is in race and digital media technologies; she is an internationally recognized expert on Internet manifestations of racism. Daniels is the author or editor of five books and has bylines at The New York Times, DAME, The Establishment, Entropy, and a regular column at Huffington Post. Twitter.
Stephanie Dinkins is an artist interested in creating platforms for ongoing dialog about artificial intelligence as it intersects race, gender, aging, and our future histories. She is particularly driven to work with communities of color to develop deep-rooted AI literacy and co-create more culturally inclusive equitable artificial intelligence. Dinkins' holds an MFA from the Maryland Institute College of Art; is a 2018 Truth Resident at EYEBEAM; and a 2018 Sundance New Frontiers Story Lab Fellow. Her work has been cited in national media outlets and exhibited internationally at a broad spectrum of community, private, and institutional venues. Professor Dinkins teaches new media art and emerging technologies at Stony Brook University. Twitter.
Chancey Fleet, a Brooklyn-based accessibility advocate, coordinates technology education programs at the New York Public Library's Andrew Heiskell Braille and Talking Book Library. Chancey was recognized as a 2017 Library Journal Mover and Shaker. She writes and presents to disability rights groups, policy-makers and professionals about the intersections of disability and technology. During her fellowship, she plans to advance public understanding of and explore best practices for visual interpreter services as well as other technologies for accessibility whose implications resonate with the broader global conversations about digital equity, data ethics, and privacy. She proudly serves as the Vice President of the National Federation of the Blind of New York. Twitter.
Jasmine E. McNealy is an assistant professor of Telecommunication at the University of Florida College of Journalism and Communications. She studies information, communication, and technology with a view toward influencing law and policy. Her research focuses on privacy, online media, communities, and culture. Twitter.
Mutale Nkonde is an activist and educational consultant working within the New York City Department of Education. Her work focuses on college and career readiness for middle and high school students living in low income communities of color. Her interest is in providing Congressional staffers with access to the research needed to develop policies focused on reducing and/or curing the impacts of algorithmic harm on communities of color. Twitter.