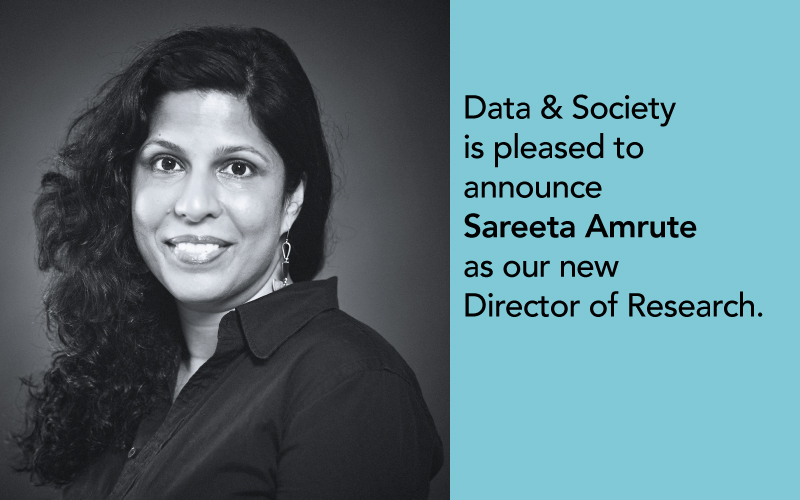 New York, NY (12/5/2018) – Data & Society is thrilled to announce today that Dr. Sareeta Amrute has been named our first Director of Research. Her appointment will begin in January 2019.
As Director of Research, Amrute will enhance the rigor and imagination of the Data & Society research agenda. Amrute comes to Data & Society from the University of Washington, where she is an Associate Professor in the Department of Anthropology. Her scholarship centers on contemporary capitalism and ways of working in digital economies, with a particular focus on race and class.
Amrute is the author of the 2016 Duke University Press book Encoding Race, Encoding Class: Indian IT Workers in Berlin, which won the 2017 Diana Forsythe Prize in the Anthropology of Science, Technology, and Medicine. The book aims to "re-materialize what has thus far been called an immaterial economy." Other project focuses include the politics of rumor and rage; legal-technical infrastructures; transnationalism and women's rights; and technology ethics.
"Sareeta is joining our leadership team at Data & Society at a pivotal moment," says Data & Society Executive Director Janet Haven. "Her interest in using scholarship to inform, ground, and frame public debate is tremendously exciting – and exactly what we hoped to find in our search for our first Director of Research. I'm delighted to welcome her as a new partner."
Amrute joins the institute's leadership at the culmination of a strategic planning process to strengthen Data & Society's unique dual focus on convention-challenging research and targeted field engagement. As Director of Research, Amrute will mentor Data & Society's growing research team and determine pathways for critical engagement with interlocutor and collaborator networks.
"Sareeta brings exciting new talent to Data & Society," enthused Data & Society Founder and President danah boyd. "Sareeta has extensive experience as a rigorous empirical scholar examining the complex ways in which technology and society intertwine. Through her leadership and mentorship, we can help grow the field of scholars whose insights can help address some of society's greatest challenges."
Amrute will work closely with boyd to continue to hone a broader vision for new knowledge that helps decision-makers grapple with complex societal challenges arising around data and automation.
"Data & Society is the place to be for scholars who want to present vital empirical research before key decision-makers. I am thrilled to join the Data & Society community to push them to new heights as they answer profound questions about the relationship between social life and technical systems before us today," says Amrute.
Amrute previously held academic positions at the New School for Social Research and Vassar College. She received her PhD in Anthropology from the University of Chicago and BA from Columbia University.
###
Media Contact:
[email protected]