Updates | 03.01.17
3.1: How Youth Navigate the News Landscape; authenticity; encryption apps
---
updates and ideas from the D&S community and beyond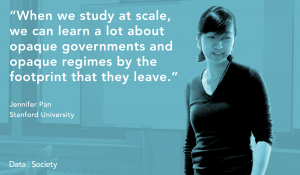 New Listen Episode:
Jennifer Pan on how the Chinese government fabricates social media posts
Around the Institute
New report finds that American youth express low trust in media, use diverse strategies to verify news content
Today, Data & Society releases "How Youth Navigate the News Landscape." Supported by the John S. and James L. Knight Foundation, the report reveals that teens and young adults express low levels of trust in the news media and use mobile and social media to confirm, verify, and clarify the stories they care about.
For more, including the full report, visit the Knight Foundation blog.
Why It's So Difficult to Authenticate Videos That Appear to Show Human Rights Violations
"When forensic scientists refuse to reveal details about how their experimental methods work, they erode trust in the ideal of scientific objectivity, and in the legitimacy of their results."
—Rebecca Wexler
On Encryption Apps in the White House
"But the reality for White House employees–based on my experience working there–is that they seem to have access to better encrypted communication tools on their private devices than they do on their government-issue devices. And that leads to a natural temptation to transact government business using secure apps on personal devices." —Ed Felten
Around the Around
The Coded Language of For-Profit Colleges
"The troubling rise of for-profit colleges, despite their boom-and-bust investment cycles, is a symptom of larger issues wrought by changes in how people work and the unwillingness to legislate in order to protect the social contract." —Tressie McMillan Cottom
BONUS: Cottom also did a great interview with the Chronicle of Higher Education: A Sociologist Looks at the Failure of the For-Profits and the Rise of Trump.
The Undue Influence of Surveillance Technology Companies on Policing
"This Essay demonstrates the increasing degree to which surveillance technology vendors can guide, shape, and limit policing in ways that are not widely recognized. Any vision of increased police accountability today cannot be complete without consideration of the role surveillance technology companies play." —Elizabeth E. Joh
Zuckerberg's world
"The medium [social media], he continues, often 'oversimplifies important topics and pushes us toward extremes.' This insight might have led Zuckerberg to a forthright accounting of the limitations of Facebook as a communications system. He might have pointed out that while Facebook is well designed for some things…it is ill designed for other things." —Nicholas Carr