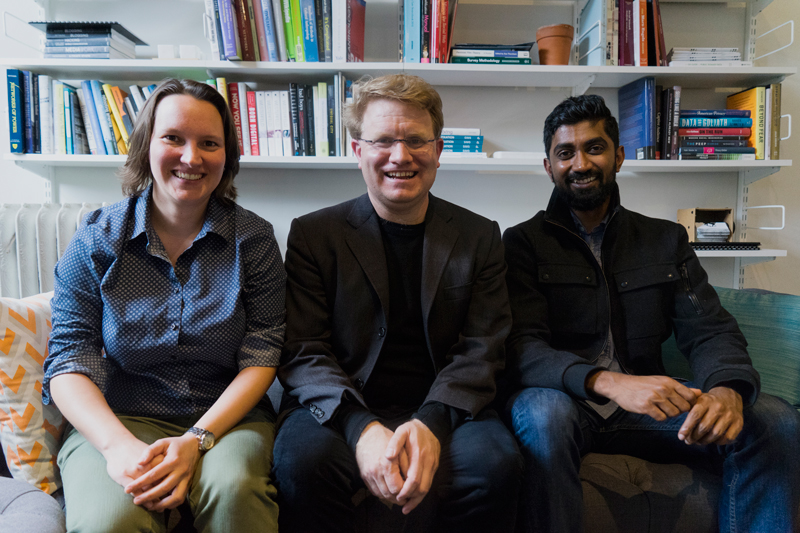 Data & Society invites you to our annual Fellows Talks, a three-part final showcase of interdisciplinary connections and provocative questions from our 2017-2018 fellows:
Databite No. 110 – Fellows Talk 1
Claudia Haupt presents Online Speech Regulation: A Comparative Perspective;
Rishab Nithyanand presents Tussling with Privacy on the Internet;
Matt Jones presents Data Science Ethics.
WHEN:  June 13, 2018.  3:30pm Doors open. 4-5pm Talks + Q&A. 5-7pm Reception.
WHERE: Data & Society, 36 W. 20th St., 11th Floor
RSVP is required for entry. RSVP here. 
Data & Society's Databites speaker series is geared toward engaging our network and the broader public on unresolved questions and timely topics of interest to the D&S community. Our annual Fellowship Program supports Data & Society's crucial ongoing field-building work at the intersection of data-centric technology and society. To learn more about the incoming class of 2018-19 fellows, click here.
Can't attend? Livestream here.
Want to attend in the future? The next Fellows Talks are on Wednesday, June 20 (link goes to details & RSVP) and Wednesday, June 27 (link goes to details & RSVP).
About the Speakers
Claudia Haupt is a 2017-18 Data & Society Fellow and a resident fellow with the Information Society Project at Yale Law School. She previously taught at Columbia Law School and George Washington University Law School. Prior to that, she clerked at the Regional Court of Appeals of Cologne and practiced law at the Cologne office of the law firm of Graf von Westphalen, with a focus on information technology law.
Rishab Nithyanand is a 2017-18 Data & Society/Mozilla Open Web Fellow who enjoys research geared towards defending anonymity, understanding Internet censorship, measuring aspects of the advertising and tracking ecosystem, and generally understanding the impact of the Internet on the sociopolitical realities of today. In the past, he dabbled in usable security and computer theory. His PhD dissertation focused on building defenses for various attacks on the Tor anonymity network.
Matthew L. Jones is a 2017-18 Data & Society Fellow who studies the history of science and technology, focused on early modern Europe and on recent information technologies. He is completing a book on computing and state surveillance of communications, and is working on a historical and ethnographic account of big data, its relation to statistics and machine learning, and its growth as a fundamental new form of technical expertise in commercial, intelligence, and scientific research.