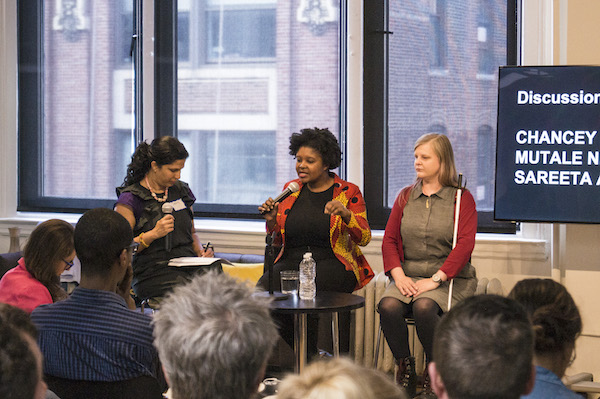 Join Data & Society this June for three lively evenings of lightning talks based on the culminating work of our 2018-2019 fellows cohort. Each Wednesday, we will discuss provocative questions emerging from a year of deep work on themes ranging from criminal justice data, to creative approaches to artificial intelligence.
The program on Wednesday, June 5 covers vexing questions in technology accessibility and accountability:
Chancey Fleet's Dark Patterns in Accessibility Tech
Mutale Nkonde's What Do We Know? The Inability to Question Mark Zuckerberg in Congress
3:30pm Doors open.
4-5pm Public talks + Q&A.
5-7pm Reception: snacks and sips provided.
RSVP is required to attend. Watch the live stream here. Video and transcription will be available after the event.
About the Speakers
Chancey Fleet, a Brooklyn-based accessibility advocate, coordinates technology education programs at the New York Public Library's Andrew Heiskell Braille and Talking Book Library. Chancey was recognized as a 2017 Library Journal Mover and Shaker. She writes and presents to disability rights groups, policy-makers, and professionals about the intersections of disability and technology. During her fellowship, she plans to advance public understanding of and explore best practices for visual interpreter services as well as other technologies for accessibility whose implications resonate with the broader global conversations about digital equity, data ethics, and privacy. She proudly serves as the Vice President of the National Federation of the Blind of New York.
Mutale Nkonde is a U.S. based policy analyst and 2018-19 fellow at Data & Society Research Institute in New York City. Nkonde works at the intersection of race, technology, and policy. Nkonde has been working as a senior tech policy advisor for Congresswoman Yvette Clarke since 2016. She was part of the team that helped introduce the Algorithmic Accountability Act into the House of Representatives in April 2019, and is currently considering a series of data privacy proposals. She is also the founder of the Dorothy Vaughn Tech Symposium, a briefing series that takes place on Capitol Hill. Her work has been covered in MIT Tech Review, she is a co-author of a report on racial literacy and tech, and she speaks widely on race, policy, and AI.
Catch the rest of speakers in the series:
Wed 6/12 | DB122: Jessie Daniels, Stephanie Dinkins, Jasmine McNealy
Wed 6/19 | DB123: Veronica Avila, Cynthia Conti-Cook
__
Data & Society's "Databites" speaker series presents timely conversations about the purpose and power of technology, bridging our interdisciplinary research with broader public conversations about the societal implications of data and automation.
Questions about Databite No. 121? Contact events(at)datasociety.net.